A Guide to the New Laws in Scotland Surrounding Smoke Alarms
Posted on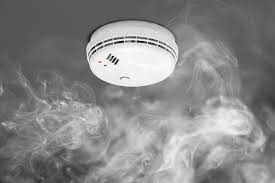 In Scotland, the law surrounding smoke and heat alarms has changed. Starting from the 1st of February 2022, it is now mandatory that all homes have interlinked smoke alarms.
If you are a homeowner, the responsibility for ensuring that your home is up-to-date with an interlinked smoke alarm system falls on you and you must update your alarms so that your home is protected in line with Scottish guidelines.
What is an Interlinked Smoke Alarm?
An interlinked alarm system means that if one alarm is set off, then the rest in your home will also sound. This benefits the home as sometimes, you may not be able to hear the alarm closest to an active fire. Therefore, with an interlinked alarm system, you will be alerted no matter your location - ensuring that you and your loved ones can remain safe.
What Alarms are Required in Scotland?
Every home in Scotland now needs:
1 smoke alarm in the room that you spend the majority of your time in - this is typically the living room.

1 smoke alarm in all circulation spaces. This means any areas which may see pedestrian travel, such as hallways and landings. An alarm is required for each storey of the building.

1 heat alarm is required in the kitchen.

1 carbon monoxide alarm if your home has appliances run using carbon.
To give an example, if you live in a house that has two floors and includes a boiler then you will need the following:
3 linked smoke alarms

1 x alarm in the living area

1 x alarm on the ground-floor hallway

1 x alarm on the second-floor landing
1 heat alarm fitted in the kitchen area - this must be linked to your smoke alarms.

1 carbon monoxide alarm in the room where your boiler is located.
The Types of Alarm You'll Need
In order to meet the new smoke alarm regulations in Scotland, you'll need one of the following two alarms:
Sealed battery alarms

Tamper-proof long-life batteries

Mains wired alarms

Cheaper than sealed battery alarms

Should be fitted by a qualified engineer
Both alarms should be replaced every 10 years and are connected through a radio frequency.
Installation of Alarms
The position of your smoke and heat alarms is also important. It is recommended that they should be attached to the ceiling.
If your home has a carbon-fuelled appliance, such as a boiler, you must also have a carbon monoxide detector fitted into your property. Unlike with the smoke and heat detectors, there is no need for the carbon monoxide alarm to be linked with the others. Appliances such as gas cookers/hobs do not require a carbon monoxide alarm.
Need More Help?
Scottish laws in relation to smoke and heat alarms are now fully in effect. If you are a homeowner, then it is your responsibility to arrange alarms in your property in line with the current legislation. Therefore, if you currently reside in rented/council accommodation - your landlord/ the council is tasked with fitting the correct alarms to your home.
There has been funding allocated by the Scottish Government for older and disabled homeowners who have low incomes.
For full information on the change to the laws, visit the Scottish Govt. website dedicated to the changes.
If you require more help, don't hesitate to contact Sonis Fire & Security for help in fitting new alarms into your home.